It was a beautiful sunny day for third round of the Irish Onroad Nitro National Championships that took place at the country's only permanent track which is situated on the outskirts of Dublin city. Hot weather and sugar watering of the track on race morning made for perfect race conditions at the St.Annes circuit and in 1:10 200mm it was business as usual for defending champion Chris Steele. The Shepherd team driver maintained his domination of the class making it three out of three in qualifying by claiming his third TQ honours of the season taking his Murnan Modified RB powered Velox V10 around the track in the fastest five minute run of the 2010 season. In the 30-minute final Steele led from start to finish to take a convincing victory over the Serpent of David Mulligan. Having qualified second on the grid Chris Lawlor had a troubled race at the controls of Kyosho but still managed to maintain his run of podium finishes.
1:10 'A' Final results
1.(1) Christopher Steele (Shepherd) – 102 laps
2.(8) David Mulligan (Serpent) – 91
3.(2) Chris Lawlor (Kyosho) – 85
4.(7) Oisin O'Briain (Serpent) – 83
5.(5) Thomas Ward (Xray) – 81
6.(9) Colm Gaffney (Serpent) – 80
7.(6) Laurence McCormick (Mugen) – 78
8.(3) Darren Gibb (Shepherd) – 58
9.(4) Robert Boylan (Serpent) – 16
10.(0)Aaron Lynch (Serpent) – 7
In 1:8, Austin Elliot became the third different Top Qualifier of the season after he secured pole with his Kyosho over the Shepherd of championship leader Ian Campbell. In the early part of the half hour encounter the battle up front was between Campbell and former Champion Clive Connolly until the Mugen driver retired when his Reds engine dropped a plug after just four minutes. This left Campbell and Elliot to battle it out for the win the pair swapping the lead a number of times as they pitted but in the end it was Campbell who took the race for his third win of the season. Eoin Doran completed the podium with his IDM powered Mugen to move into equal second with Connolly in the championship standings behind Campbell.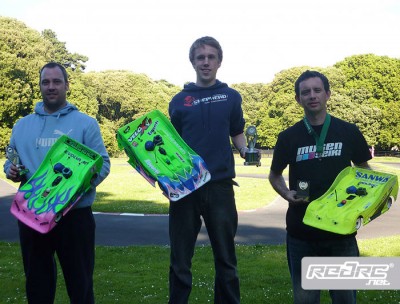 1:8 'A' Final results
1.(2) Ian Campbell (Shepherd) – 111 laps
2.(1) Austin Elliot (Kyosho) – 110
3.(3) Eoin Doran (Mugen) – 103
4.(6) John Delaney (Serpent) – 100
5.(7) Luke Collins (Serpent) – 94
6.(5) Clive Connolly (Mugen) – 16
7.(4) Darragh Fox (Serpent) – 11
Congratulations to all who attended.
ORCA Committee
Report Source: